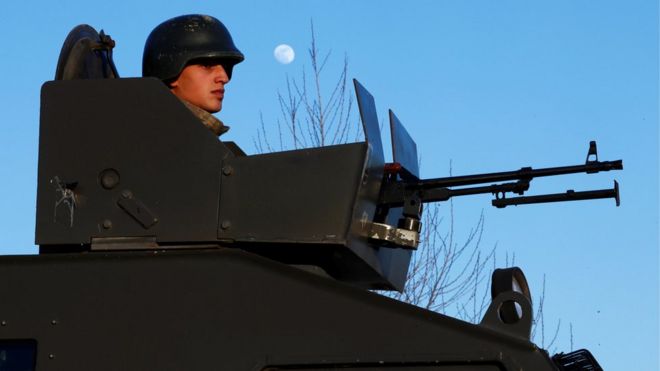 More than 300 people have been arrested in Turkey after posting messages online criticising the country's military offensive across the border in Syria.
The messages condemning the Turkish military operation to push a Kurdish militia out of Syria's northern region of Afrin were posted on social media.
The users were detained for spreading "terror propaganda", officials said.
Detainees, it added, included politicians, journalists and activists.
It comes after President Recep Tayyip Erdogan condemned the Turkish Medical Association (TTB) over an anti-war message.
Mr Erdogan said that doctors from the medical association were "filth" and "terrorist lovers" after they had warned that Turkey's military operation could turn into a humanitarian tragedy.
The Turkish president added that such comments were a "betrayal", and referred to members of the association as "agents of imperialism".
He was referring to comments last week in which the TTB denounced the cross-border operation, calling for "peace immediately".
The association later said it had a responsibility to speak out, adding that remarks by senior government officials had made it a target of attacks.
 (Courtesy BBC)